Ajanta Ellora Tour (13 Days / 12 Nights)
Destination Covered:
Delhi - Agra - Shivpuri - Bhopal - Mandu - Jalgaon - Aurangabad - Pune - Mumbai
Tour Details:
We offer our customers a peep into the Indian history with our Ajanta Ellora Tour Packages. Get closest to the history with our Ajanta Ellora cave tours that take you along to some of the most enticing beaches and places. Our reasonably priced packages are few of the best available Ajanta Ellora tour packages in India.
Day 01: Arrive Delhi
Your tour starts with the arrival in the capital city of India. A handsome driver will meet you at International Airport/Railway Station, with you name Placard. And the same driver took you the hotel and helps you in check in at hotel. Over night stay at hotel New Delhi
Day 02: New and Old Delhi Sightseen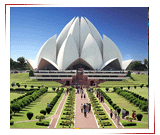 After taking breakfast you will follow this local sightseeing (Birla Mandir, Qutab Minar, Lotus Temple , himayun tomb , India Gate ,Rashtrapati Bhawan & Parliament House Rajghat , Red Fort, and jama masjid ) walk round in market of chandni chowk, dinner and overnight at hotel.
Day 03: Delhi - Agra ( 204 Km )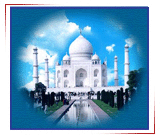 After having Breakfast we move for Agra around 8am. On the way of Agra you will see monument like sikandrabad Arrival at Agra will be around 1:00 pm noon & transfer to hotel. Local sightseeing from 2 pm ( Itam-ud-Daula, Agra Fort, Taj Mahal from behind ) Dinner & Overnight at Agra.
Day 04: Agra - Shivpuri (230 Kms)
After breakfast we move for shivpuri. Shivpuri is very ancient town and a sacred place. It is named for the God Shiva. It is steeped in the royal legacy of its past, when it was the summer capital of the Scindia rulers of Gwalior. Earlier to that, Shivpuri's dense forests were the hunting grounds of the Mughal emperors.Evening site seeing of shivpuri, overnight in shivpuri.
Day: 05 Shivpuri - Bhopal (220 Kms
After breakfast we move for Bhopal. Bhopal is said to have been founded by the Parmara King Bhoj (1000-1055), who had his capital at Dhar. The city was originally known as Bhojpal named after Bhoj and the dam ('pal') that he is said to have constructed to form the lakes surrounding Bhopal. In Bhopal you can see palaces, gardens, lakes, mosque and museum
Day 06: Bhopal - Mandu (270 Kms)
In the morning after breakfast we move for mandu. MANDU, known as the "city of joy" has been witness to a long and checkered history peppered with ups and downs. Reference to Mandu has been made in a Sanskrit inscription of 555A.D. The inscription suggests that Mandu was a fortified city even in the 6th centur
Day 07: Mandu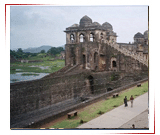 In mandu you can see Asharfi Mahal, Rewa Kund, Jahaze Mahal, Lohani caves, overnight in Mandu.
Day 08: Mandu - Jalgaon (240 Kms)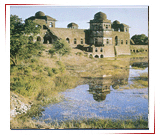 After breakfast we move for Jalgaon. Jalgaon district, also known as East Khandesh district prior to 21-Oct-1960, was earlier a part of "Khandesh. Sightseeing of Jalgaon, Sightseeing in Jaogaon, overnight in Jalgaon.
Day 09: Jalgaon - Aurangabad (161 Kms)
After breakfast we move for Aurangabad. On the way we will stop at ajanta caves. It was only in the 19th century, that the Ajanta Group of Caves, lying deep within the Sahyadri Hills, cut into the curved mountain side, above the Waghora River, were discovered. At Ajanta Caves you can see the frescoes, sculpture in Buddhist Caves and Zenith of Indian Art, overnight in Aurangabad.
Day 10: Aurangabad
Site seen of Aurangabad and Ellora, in Aurangabad you will see the Mughal Monuments and Tombs and in the Ellora you can see the cave shrines of all faiths, magnificent and sculpture. Overnight in Aurangaba
Day 11: Aurangabad - Pune (226 Kms
Located in Sahyadri Hills near the west coast of India, Pune is a fascinating city with a healthy climate all year around. The city was one of the pivotal bases of the 17th century great maratha ruler Chhatrapati Shivaji, who was born at the Shivneri Fort here. Shaniwar Wada, Saras Baug, Parvati Hill, Raja Kelkar Museum, Shinde's Chhatri, Bund Garden, Kasturba Smarak (Inside Agha Khan Palace) etc. Overnight at hotel.
Day 12: Pune - Mumbai (190 Kms)
Morning after breakfast enjoy a half day tour of: Gateway of India - The stone archway designed by Wittett in the 16th century Gujarat style. Elephanta Caves - 9kms by sea. These 7th century rock - cut temples dedicated to Lord Shiva. Overnight at hotel.
Day 13: Mumbai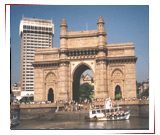 After breakfast sightseeing of Mumbai. Afghan Church, Chowpatty Beach, Gateway Of India, Haji Ali Tomb, Flora Fountain, Kamala Nehru Park, Crawford Market, Mahalakshmi, Marine Drive, Hanging Garden, Race Course, Rajabai Towers & Bombay University, Victoria Terminus , Nehru Planetarium, Taraporewala Acquarium, Jijamata Udyan, Nehru Science Centre, Prince Of WalesMuseum, departure as per your desire.
Rana Tourist Service is aDelhi car rental, has been launched recently to give excellent tour package which name is Rajasthan tour Package to the travelers coming from abroa